The RiverLink starter kit includes a RiverLink local transponder, a reload card and a RiverLink customer agreement. Customers do not need to register the transponder or their car to use the starter kit transponder. However, the transponder can be added to a prepaid account later if desired.
Where to Buy a Starter Kit
Starter kits are available at participating Speedway and Thorntons locations and select FiveStar locations throughout Kentucky and Indiana. Starter kits may not be purchased or reloaded at the RiverLink customer service centers. View Retail Locations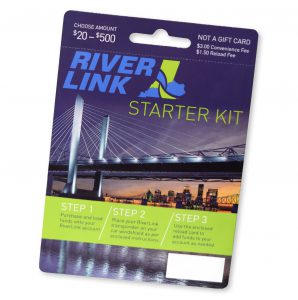 How It Works
To get started:
Load $20 to $500 on the prepaid transponder at checkout. There is a one-time $3.00 activation fee.
Place the transponder on the inside of the car windshield, as instructed.
Keep the reload card. You can use it later to add money to the transponder at participating locations. There is a $1.50 reloading fee every time money is added to the prepaid transponder
You're all set! The prepaid transponder is ready to use on any of the three Louisville – Southern Indiana Ohio River tolled bridges.
Note: RiverLink starter kits are non-refundable. The remaining balance on the starter kit will be available for up to 5 years. Monthly account statements are not available for RiverLink starter kits.
Reloading
Money can only be added to a RiverLink prepaid transponder by using the reload card at participating retail locations not a RiverLink customer service center. The card can only be reloaded if it has a positive balance.
The minimum reload amount is $20. There is a $1.50 reloading fee every time money is added to the prepaid transponder.
Register the Transponder to Eliminate Reloading Fees
Customers can choose to register their prepaid transponder to eliminate reloading fees and to access additional services. Call 855-RIV-LINK (855-748-5465) or visit a RiverLink customer service center to register a prepaid transponder. Customers will enjoy the full benefits of a RiverLink prepaid account with no reloading fees, access to auto-replenishment and access to account statements.
Avoid Paying a Higher Rate: Keep a Positive Balance
If a prepaid transponder reaches a negative balance, higher toll rates will apply and an invoice will be mailed to the registered owner of the vehicle. If there is a negative balance associated with the license plate, the transponder will not be able to be reloaded until tolls owed are paid in full.