Commercial and Fleet Vehicles
If you have additional questions that are not answered here, please contact us.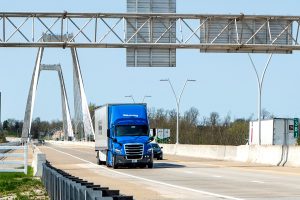 How does RiverLink classify commercial vehicles?
RiverLink toll rates are based on vehicle height and number of axles.
Which bridges are tolled?
RiverLink tolling is in place on the Abraham Lincoln Bridge (I­-65 North), the John F. Kennedy Memorial Bridge (I-65 South) and the Lewis and Clark Bridge (SR 265/KY 841) connecting Prospect, KY and Utica, IN.
More Details About Tolled Bridges
How does a RiverLink commercial account work?
RiverLink commercial accounts are prepaid accounts that can include an unlimited number of vehicles.
A commercial account can be opened by visiting a customer service center, calling customer service or registering online. Have this information handy for each vehicle you want to register: make, model, year, color and license plate number/state. Businesses that choose to visit a customer service center should bring an easy-to-read sheet with all vehicle information.
 Commercial accounts require an opening minimum balance of $20 per vehicle. Businesses should consider auto-replenishment to ensure positive account balances and to always pay the lowest toll rates.
Commercial accounts do not qualify for the frequent-user discount. This discount is available only for Class 1 passenger vehicles assigned to a personal RiverLink account.
Transponder Options
As with personal accounts, commercial account holders can use a RiverLink local transponder or a RiverLink E-ZPass transponder.
More About RiverLink Transponder Types
E-ZPass Transponder Interoperability
If your company already uses E-ZPass transponders from another tolling system, these transponders will work on the Kentucky-Southern Indiana Ohio River Bridges.
More About Transponders From Other States
Toll Management Services
If your company uses a toll management service that is compatible with the E-ZPass network (such as BestPass), your system will work on the Kentucky-Southern Indiana Ohio River Bridges.
Weight Limits and Special Hauling Permits
Although RiverLink is the tolling system for bridges in the Louisville-Southern Indiana area, RiverLink is not the operator (as is the case with some toll roads). For information about commercial vehicle regulations and permits, please visit these websites:
State of Indiana Motor Carrier Services
Commonwealth of Kentucky Motor Carrier Services