Prepaid Account With Transponder
The Way to Pay the Lowest Toll Rates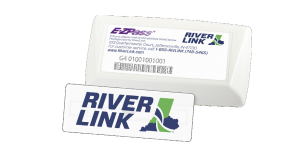 A transponder is an electronic device that typically is placed inside the front windshield of a vehicle, near the rearview mirror, and is used to detect crossings on a tolled facility. There are two types of RiverLink transponders: a RiverLink local transponder and a RiverLink E-ZPass transponder. Compare Transponder Options
To get a transponder, simply set up a prepaid account. The savings start as soon the account is opened and vehicles are registered. Have this information handy for each vehicle you want to register: make, model, year, color and license plate number/state. 
A personal account can include up to four vehicles. A commercial account can have unlimited vehicles. More About Account Types
Saving is Easy

 as 1-2-3

 with RiverLink
1.
Get 
a
 Transponder When You Open a Prepaid Account
Customers can set up an account online, by phone or in person at a RiverLink customer service center.
2.
Properly Mount Your Transponder
On most vehicles, it's mounted to the inside of the windshield near the rearview mirror, so drivers hardly know it's there.
3.
Keep 
a
 Positive Account Balance
Auto-replenishment makes it easy. Pay the lowest toll rates and never receive an invoice.
A

lready 

H

ave a

n E-ZPass 

T

ransponder 

f

rom 

A

nother 

T

olling 

A

gency?

 
The E-ZPass transponder will work for the Louisville-Southern Indiana tolled bridges. However, it will not qualify for the RiverLink frequent-user discount.
Account Types

 
There are three types of RiverLink accounts available:  
Personal accounts can include up to four vehicles. The minimum balance to open an account is $20, regardless of the number of vehicles. 

 

Commercial accounts do not have a limit on the number of vehicles. The minimum balance to open an account is $20 per vehicle. More About Commercial Accounts 
Government accounts are available to federal, state and other government entities that complete a government account application. This application has a special approval process and requires a W-9 or a letter of exemption for those entities without a W-9, as evidence of eligibility. Approved government accounts are required to have a transponder in their vehicles.  They are charged the transponder rate, but are allowed to post-pay their tolls. There is no limit on the number of vehicles that can be added to a government account.

 
Have a Question About Your Account?