The first full month of tolling is complete on three Ohio River bridges connecting Louisville and Southern Indiana. Tolling on the new SR 265 Lewis and Clark Bridge, the new I-65 Abraham Lincoln Bridge and the improved I-65 Kennedy Bridge started Dec. 30.
The number of crossings with transponders climbed each week, with 56.5 percent of vehicles with transponders the last full week of January. Nearly 60 percent of vehicles crossing this week had transponders. Drivers with prepaid accounts and transponders pay the lowest rates.
There were a total of 2,244,476 crossings of tolled bridges in January. The highest number of crossings was seen the last full week in January, when an average of nearly 81,000 drivers crossed tolled bridges each day. That number is expected to climb in the coming weeks and months.


Transponders
The number of drivers crossing tolled bridges with transponders is expected to continue to increase as more accounts are opened and transponder orders are fulfilled. More than 30,000 drivers have opened RiverLink accounts and are waiting for RiverLink local transponders.
RiverLink local transponders are in stock, and orders are being fulfilled. Drivers with RiverLink local transponders on backorder are expected to receive them later this month. Drivers with prepaid RiverLink accounts are paying the lowest rates as they wait for transponders to arrive.
Transponders requested to date: 204,000
RiverLink local transponders: More than 166,000
RiverLink E-ZPass transponders: More than 37,000
RiverLink accounts to date: 95,000
Vehicles Crossing Tolled Bridges Without RiverLink Accounts
Vehicles without accounts or transponders: 355,000 drivers
Vehicles with license plates registered in IN: Nearly 187,000
Vehicles with license plates registered in KY: More than 150,000
Vehicles with license plates from other states: Nearly 18,000
These are trips taken by drivers without RiverLink prepaid accounts or whose accounts have a negative balance. The majority of these drivers have taken very few trips over tolled bridges, with 70 percent owing $12 or less in tolls.
Invoices are being processed and mailed. Invoices are sent to the registered owner of the vehicle. Vehicle owners who receive invoices can contact RiverLink customer service by phone or in person, open a prepaid RiverLink account and tolls owed will be adjusted to lower, transponder rates. Trips taken before opening a prepaid RiverLink account will not qualify for the frequent-user discount.
Frequent-Users
Frequent-users to date: 3,800 in January
This number is expected to increase slightly as trips taken in the month of January continue to post. The frequent-user discount is automatic, but 40 trips must post before the discount is received. It can take several days for transactions to post. The frequent-user credit will post after the 40th trip is processed and recorded for the month of January, even if the trip doesn't post until February.
The frequent-user discount is per transponder, not per account. The frequent-user discount is only for drivers in passenger vehicles with RiverLink personal accounts who maintain a positive balance.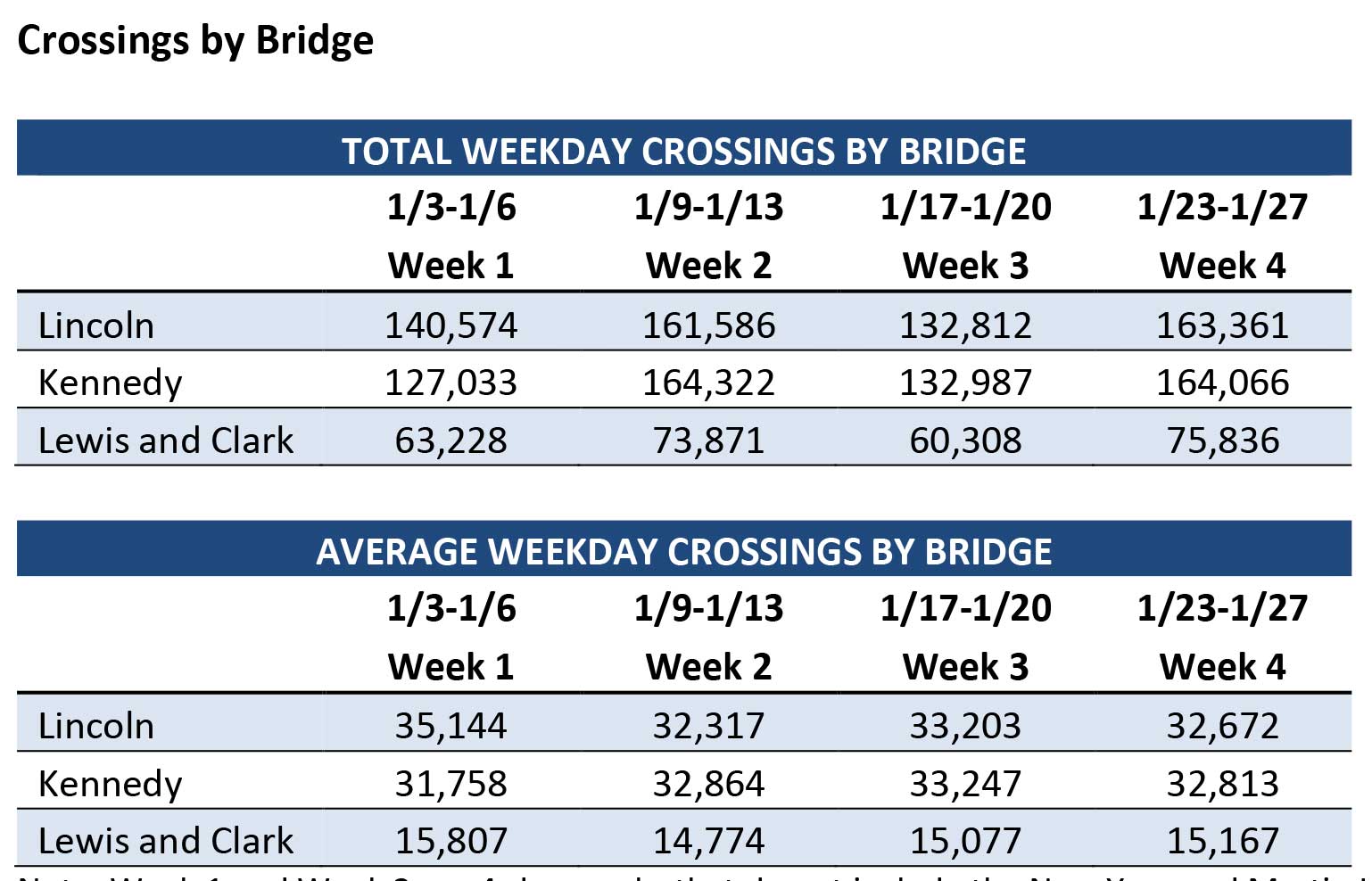 Opening a RiverLink Account
RiverLink is the name of the new, all-electronic tolling system. There's no stopping, no slowing, no lines and no coin machines. Toll rates range from $2-$12, depending on the size of vehicle and whether the driver has a prepaid RiverLink account and transponder.
Drivers can open a RiverLink account online at www.RiverLink.com, by phone at 855-RIV-LINK or in person at one of two RiverLink customer service centers.
Customer service centers are located at 400 E. Main St. in Louisville and 103 Quartermaster Ct. in Jeffersonville. The centers are open 7 a.m. – 7 p.m. Monday – Friday. They are also open 8 a.m. – 2 p.m. Saturday.