Drivers have another option for purchasing RiverLink transponders. RiverLink starter kits are available at Speedway locations throughout Kentucky and Indiana. The kit includes a RiverLink prepaid transponder that can be used on the three tolled bridges connecting Louisville and Southern Indiana, a reload card and a RiverLink customer agreement.
Drivers do not need to register their transponder or their car to use the prepaid transponder. They simply need to purchase the kit and activate it at the store register. The RiverLink starter kit can be found with other prepaid cards and gift cards in Speedway stores.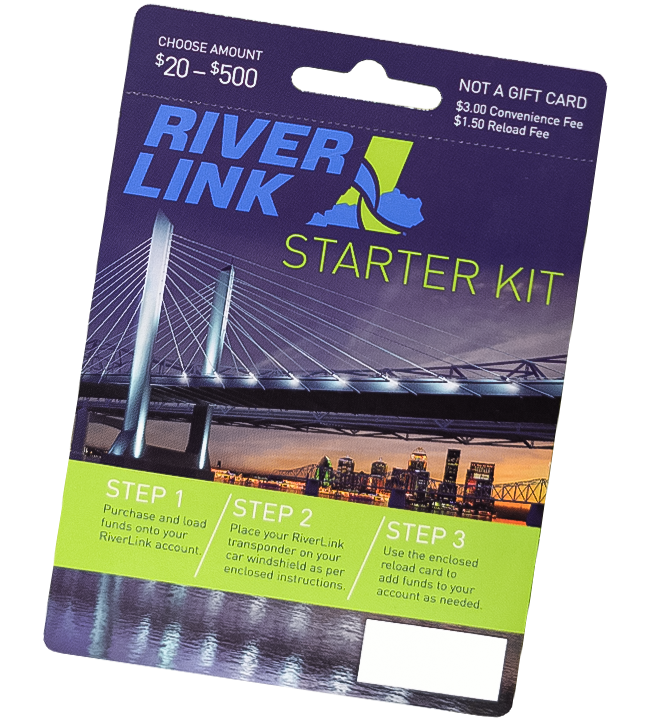 Using a RiverLink Starter Kit
Purchasing and using a RiverLink retail kit is easy:
Load $20 to $500 on the transponder at checkout. There is a one-time $3.00 activation fee.
Place the transponder on the inside of the car windshield, as instructed.
The RiverLink prepaid transponder is ready to use on any of the three Louisville – Southern Indiana Ohio River tolled bridges.
Keep the RiverLink card and use it to reload the prepaid RiverLink transponder at a participating Speedway location. The minimum balance to reload a prepaid transponder is $20. There is a $1.50 reloading fee every time money is added to the transponder.
Money can only be added to a prepaid retail transponder by using the reload card at a participating Speedway location, not a RiverLink customer service center.
A positive account balance is required to pay the lowest toll rates. If the prepaid retail RiverLink transponder reaches a zero balance, drivers will pay higher toll rates, and receive an invoice in the mail.