Invoicing has been on hold since April 2023
Invoicing has resumed for RiverLink customers without prepaid accounts and transponders. Invoicing for new crossings had been on hold since April 2023. Holding invoicing during the transition to a new toll service provider helped to prevent overlap between the two providers and confusion for customers.
New Monthly Bills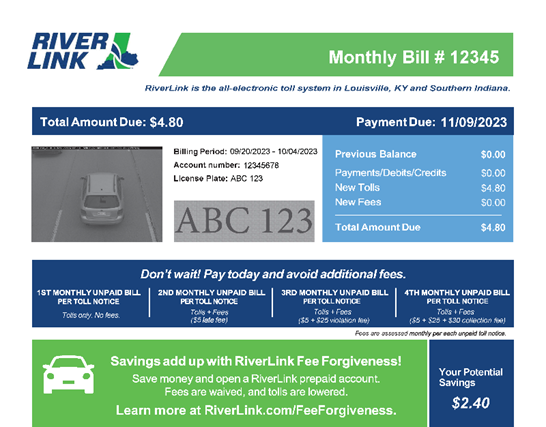 One of the biggest improvements for customers using the tolled bridges without prepaid accounts and transponders is the addition of new monthly bills. The bills are similar to a utility bill or credit card bill. Drivers will see crossings for the month, unpaid tolls, and fees in spot. Drivers will receive one monthly bill per vehicle.
Consolidated monthly bills will help drivers track all activity in one spot, without juggling multiple invoices. In addition to streamlining the billing process, customers will also see customized savings if they open a prepaid account. Tolls owed are rolled back to transponder rates and previous fees are waived. The savings can be substantial. Drivers save more than $2.50 per crossing with a prepaid account and transponder.
What to Expect
The first monthly bills are being sent to customers. Not all customers are on the same billing cycle, and it may be later this year before a customer receives a first monthly bill. The new provider is catching up on held crossings in order, beginning in April. It will take time to catch up on invoicing and older transactions are expected on the first several monthly bills. Fees will not be applied until a first toll notice on a monthly bill is unpaid.
With held crossings now posting, some customers will see significantly higher invoices. It's an ideal time to consider opening a prepaid account to take advantage of lower toll rates. No fees have been added while invoicing was on hold.
Payment plans are available. Payment plans are offered to customers once every 12 months. Customer service can help with guidance and assistance in signing up for a payment plan. That assistance can be provided in-person at one of two RiverLink Walk-Up Centers. One is located at 204 S. Floyd St. in downtown Louisville and the other is located at 103 Quartermaster Ct. in Jeffersonville. Customers can also call 855-RIV-LINK for assistance.
Direct communication with customers alerting them to held invoicing started earlier this spring and has continued throughout the transition to a new toll service provider.
Prepaid Account Holders
Customers with prepaid accounts may also see older crossings posting to their accounts. These crossings are video transactions (v-tolls) in which your transponder was not read while crossing a tolled bridge.
Because of the transition to a new provider, all video transactions have been on hold since April 1, 2023. With the new provider in place, held transactions are starting to be processed. Customers who had any v-tolls during this period will start to see these crossings post to their prepaid accounts. All activity should be up to date by early 2024.